Taveuni, Fiji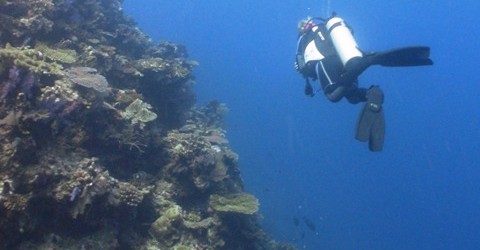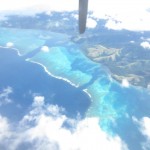 Our latest adventure was to the tropical South Pacific paradise of Fiji.  We visited Taveuni Island to spend a week diving the world renowned Rainbow Reef.  Kristy and I both love the South Pacific, (apart from any remaining cannibals-how could you not?) so we were extremely excited to be heading back.
A short "puddle jump" plane ride from Nadi, on the main island of Viti Levu, brings us to Taveuni.  The flight whets the appetite of the weary traveler, as the aerial views of small islands, sand islets and fringing coral reefs are breathtaking.  This in turn causes the water lovers blood to pump faster, thinking about gorgeous b
lue water, coral gardens, and steep walls providing the last bit of energy needed to stumble into the resort for a drink and dinner before passing out from jet lag.
Lush rainforests, waterfalls, and tropical plants dot the island making it easy to understand how Taveuni got it's nickname, the "Garden Island".  The extravagant beauty continues underwater too, as the reefs and walls are loaded with Fiji's famous soft corals in vibrant hues of purple, blue, red, and more.
Rainbow reef is located between the islands of Taveuni and Vanua Levu in the Somosomo Strait.  It's this constriction of water flow through the two large volcanic islands that gives the reef what it wants most: current.  Current, caused by the changing tides, brings nutrients and oxygen, the building blocks of healthy reefs and ecosystems.  When the currents moving and water is flowing, the soft corals open and bloom like wildflowers during spring time.  Current also brings in larger pelagics like the grey reef sharks and barracuda we saw at the "Zoo" dive site.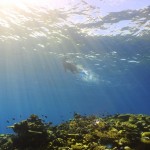 We were blessed with incredible diving this trip, visibility to over a hundred feet in spots, manageable currents and little wind (plus a great group of people).  Dive sites like the enchanting "White Wall", covered in so much white soft coral the dizzying view made you feel like a hippy during the 60's (unless that was the residual kava from the night before!), to Annie's Bommie with amazing amounts of colorful reef fish, and Sam's Point with everything from white tip reef sharks to garden eels to signal gobies, will be with me forever.  "Vinaka vaka levu" Fiji and I can't wait to return! — Dan