Just So
Just So
Baja November 2014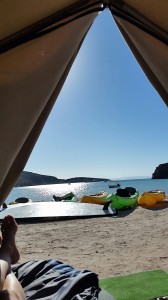 We did it: we're camping in the Isla Espiritu Santo Archipelago. I wade into the water for a refreshing dip in the bright turquoise Sea of Cortez, looking forward with a breast-stroke to the mouth of the cove, protected by volcanic walls and stately saguaro. Looking back with a butterfly kick, at the yurts and the guests– equally beautiful the view. They are hiking, paddling, reading… following their heart's desire, as it should be on vacation.
I want everything to be "just-so." I try to be pleasant and relaxed but I want margaritas and tapas at sunset, dry towels and soap and flashlights, coffee at sunrise and El Bajo for our first dive. I am pleasantly distracted from these unmet "needs" by a hike up the canyon: butterflies, birds, flowers, lizards, mantis, adobe colored cliffs, hooting owls, singing crickets. Later, lapping waves and someone snoring… a synchrony of snores…
Recognizing what lacks, and accepting what I cannot change—it's a balancing act.  A "Leader" is One whose main concern is the well-being of the group (I am happy guests are sleeping soundly). Intuiting the group's needs and steering their energy forward, emulating the ever-important "vacation-vibe," relaxed and fortunate, I take responsibility.  Accepting the situation with responsibility means you have the ability to respond creatively to the situation as it is in this moment (I am glad I brought ear plugs).
Still, I want things to be just-so: the rooms with ocean-views, the patios with shaded hammocks, a cool breeze to shoo the mozzies but not so much to rough the sea; the water warm but not too empty of food for whalesharks. The DMs should be friendly, and the food should be delicious. But the kitchen won't make margaritas until after dessert, and the DM doesn't know her reg from her ass (4-pounds couldn't be enough? Hold my belt, watch me). When I have the ability to respond creatively to these unexpected losses from "just-so", inevitably, unexpected gains on "just-so" show up all around. Be receptive to these unexpected gifts: the sunlit walls of the canyon dancing with butterflies; the mobula ray flying in squadrons through the dark; the Milky Way moving across the Mexican sky; the bull sharks circling like honchos around their wreck; the pitaya margaritas around a table lit by Tecate candles and full of laughter. These precious spontaneous gifts arrive like welcome guests when "just-so" departed. Experience them with fire, a sparkle of ecstasy throbbing all around you. Drop the disappointments and your spirit soars light-hearted and care-free.
Nature's path unfolds spontaneously, without effort. The exquisite balance of acceptance and responsibility combine into an experience of effortless ease.  Can I learn this lesson? When I seek to control, I waste energy, but when my actions are motivated by compassion (would you be more comfortable if I dive over-weighted, Dear?) my energy multiplies. The surplus can be gathered to create anything. Don Juan tells Carlos Cataneda "most of our energy goes into upholding our importance, seeking approval… If you can free your energy from trying to maintain the illusory idea of grandeur, you provide yourself with enough energy to catch a glimpse of the actual grandeur of the universe." As the Milky Way moves across the Mexican sky, just-so.
Kristina Finstad
Nov 27, 2014