South Africa Health and Safety
The Center for Disease Control has a fantastic website, follow this link to see their Health and Safety in South Africa page.
Vaccines and Medications.  You should be up to date on routine vaccinations while traveling to any destination. CDC recommends the following vaccinations for travellers to South Africa:
Hepatitus A:  You can get hepatitis A through contaminated food or water in South Africa, regardless of where you are eating or staying.
Typhoid:  You can get typhoid through contaminated food or water in rural areas of South Africa, or if you are an adventurous eater.
Rabies:  Rabies can be found in dogs, bats, and other mammals in South Africa.
When traveling in South Africa, you should avoid mosquito bites to prevent malaria. Below is a map of areas with malaria transmission.  The Wild Coast, near East London, is malaria-free.  Kruger National Park, near Sabi Sabi Reserve, has malaria-presence.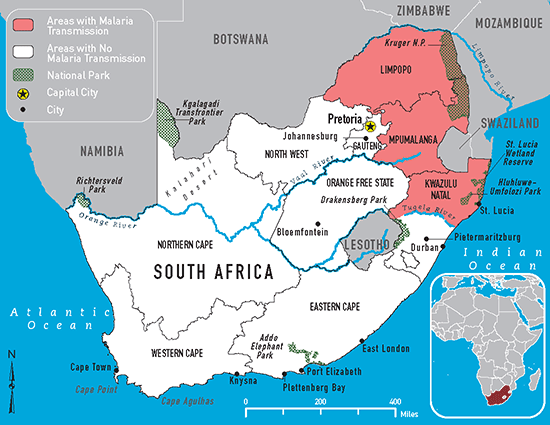 We will be near Kruger National Park for 4 days; and although the lodge provides mosquito netting, Park Rangers recommend taking malarial prophylactics to prevent transmission.
Estimated relative risk of malaria for US travelers: Low.
Recommended chemoprophylaxis: Atovaquone-proguanil (Malarone), doxycycline, or mefloquine.
Drug resistance: Chloroquine.
What can I do to prevent bug bites?
Cover exposed skin by wearing long-sleeved shirts/long pants.
Stay and sleep in air-conditioned or screened rooms.
Use a bed net if the area you are sleeping is exposed to the outdoors.
Use insect repellent (information about the best repellant choice for you).  Look for products with the following active ingredients:

DEET
Picaridin
Oil of lemon eucalyptus (OLE)
IR3535
If you do choose to take prescription medicine, see CDC's advice on choosing a drug to prevent malaria.