Fiji, Nai'a June 2018
Fiji Dive Log
Nai'a 2018
Courteously provided by Elizabeth Dahlhoff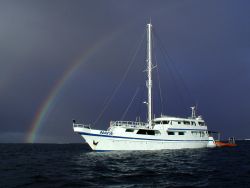 May 26.  Viti Levu.  Viz 20'.  Check-Out Dive.
Samu Reef.  Orbicular damsel (tiny, adorable).  Phyllidia nudi.  Bi-color Goatfish. Hot pink hard corals.
May 27.  Bligh Water.  Rain.  Viz=50'
Vatu-i-Ra.  Pinnacle.  Current.  Super fishy on the windward side, trevally and big-eye jack.  Endemic Yellow damsel.  Tons of juvies on the sea fans.
Coral Corner.  Raining, surgey.  Grey Reef Shark.  White tip.  Great 'Cuda.  Midnight snapper.  Fusiliers.  Tiny lobster.  Lizardfish.  Fiji clownfish.  Fighting parrotfish.  Octopus on safety stop.
Maytag.  Current made it difficult to reach the reef.  Covey, rubbley, ledges.  Cucumber butt crab!  Top of reef brightly colored with orange/red/purple volcano sponges under fields of rosey soft corals.
May 28.  Bligh Water.  Viz=40'.   Rain and wind. 30' swells reported, outside.
Pinnacles.  Lacey bryozoans.  Punk rockfish (pygmy hawkfish).  Nic wall.  Tons of schooling fish.  Amberjack.  Fusileir.  Blue-fin Trevally.  Fun dive.
Labryinth.  Nice topo. Pacific bird wrasse, slingjaw wrasse (extends proboscis for cleaning).  Striped fangblenny.  Blue dragon nudi (to 10" long!).  Dorids. Lots of soft corals and sea fans.  Black spotted puffer.
Star Puffer.  Belly distended.  Dog tooth tuna. Shrimp goby.  White tip reef sharks.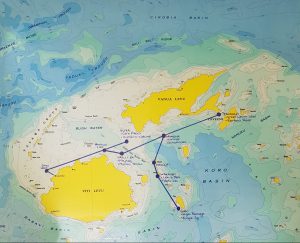 May 29.  Namena Marine Reserve.  Viz 70'.
Tetons 3.  Blackfin barracuda.  Pair of blue ribbon eels (great yellow notril webbing).  White banded cleaner shrimp happy to give manicures and dental cleaning.  Coral grouper, Banded and Reeftop pipefish.  Clown triggerfish.  Chromodoris.  Fiji clown blenny.  Purple anthias (adorable!).  Square-spot anthias (deeper).  Black saddled toby.
Teton 1.  Great barracuda.  Blacktip Shark.  Giant tridacna.  Batfish.  Sea fans and soft corals.  Aquarium-like.  Coral Blenny, white margin unicorn fish (caudal filament), balck snappers.
Kansas.  Yellow soft coral (amber waves of grain).  Lovely arch.  Scorpion leaf fish, moray, dwarf hawkfish, Moorish idol, Cave anthias, fuji clown blenny, trumpet fish, groupers (giant!).  Angel fish, butterfly fish, 3 spot dasayllis sharing anemone.
Grand Central Station.  Drop off pelagic station.  5 Gray Reef. White-tips. Dogtooth tuna. Big eye jacks, blackfin barracuda, Spanish macks, blue and yellow fusiliers.  Trumpetfish.  On the arch:  scalefin anthias, giant grouper, starry puffer.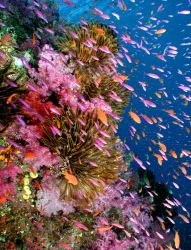 May 30.  Nigali Pass.  Viz=90'
Jungle Jig.  Helfrich's Dartfish.  Fire Dartfish. Long nose hawkfish in red seafan.  Orange spotted pipefish.  Nice reef.  Midnight snaps (teens wearing black lipstick).  Sloping shallows:  hawksbill turtle (mellow, curious about Elizabeth's yellow fins).  Fluorescent brain coral.  Many spotted sweetlips.  Lori's anthias.  Endemic Fiji Anenome fish.
Nigali Pass.  Incoming tide.  Drift/shark nursery.  Garden eels. 3 cuda species schooling:  Big eye, Pick handle, Blackfin.  Resting whitetips.  Huge Dogtooth tuna.  1 male Gray Reef (GR), several wounded females (bites behind pec fins and gills).  From the "Bleachers":  Malabar grouper (friendly, huge, cheeky, camera-whore).  Midnight snappers running over the corner like a river.  Schooling big eye jacks.  Fusilier.  Gray Reef (females, gravid) sharks circling (8 on dive #1, 15 on dive #2).  Reef top:  limey cabbage patch hosting squirrel fish and peasoup grouper.  2,000 y.o. Porites bombie.
Kristy and Dan disembark.  Trisha reported manta sightings May 31.
May 31.  Wakaya Island.  Viz=70'
Lion's Den.  Lionfish and leafy scorpionfish.  Really big school of barracudas in sandy channel.  Wall had lots of Fiji gobies, Helfrich's dartfish, Fiji clown blenny and dwarf hawkfish (both endemic).  Spotted sweetlips.  Lots of anthias.  Blue fin and Big eye trevally jacks.  Midnight snapper and lots of little schoolers playing in the current.  Big clams on top.  Varied anemone fish.  Several sp. Nudies (Flabellina).  "Lovely, but not Wow," according to Elizabeth.
June 1.  Undeniable Reef.  Viz= 75'
Main Reef.  Gorgeous site.  Lots of relief/wall/grotto.  Peek in to see the sea fans waving.  Heap of anthias on the reef top, color-galore:  yellow, blue, orange, purple, pink.  "Toad stool" coral heads away from the wall.  Tons of Christmas tree worms.  "Wow, just Wow," says Elizabeth.