Great Barrier Reef and Coral Sea

 Spirit of Freedom 2018
Dive Log
Temperature= 80 deg F.
 See photos here: Great Barrier Reef Gallery
November 12 
SAXON REEF
Viz 30'  Dep 48'
Surprised how many interesting critters we saw on this crepuscular check-out dive.  White tip reef shark, trevally circling, shag cucumbers, batfish, tridacna (giant clam), blue tunicates (sea squirts), cuddlefish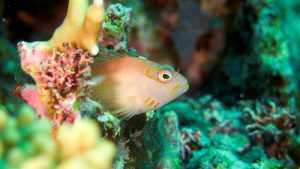 November 13
GEORGE'S WALL
Viz 30'  Dep 70'
Fusilier, anthias, purple cowry in soft coral (!!), clingfish, sun tunnels, nudi, flatworms, white margin unicorn fish, bignose unicorn, harlequin filefish
TOWER OF TOMOKO
V 20' D 60'
Huge colony (20'x20') of Porites sp. with feeding tentacles alternately extended.  Cuddlefish. Volcano sponge, scallops.
CHALLENGER BAY
V 40' D 78'
Massive Povona coral—Pink Floyd Style trippin to swim over it's knobby branches.  White tip shark (WT), pipefish, cuddlefish.
STEVE'S BOMMIE
V 30' D 90'
"Bommie" comes from the Aboriginal word "bombera" meaning "stands alone."   Great for life, bad for keels.  Barrier reef Anenome fish (endemic), Spinecheek Anenome fish (rare).  Stonefish, leafy scorpion fish.  Great barracuda, fairy basslet, spotted sweetlips.  Grouper:  gold-spot, Black tip, and Blue spotted grouper.  Tubastrea (green coral tree).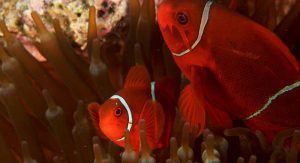 November 14
COD HOLE
V 50' D 90'
Feeding circle with one large (75 pound) potato cod.  Huge (150 pound) potato cods under boat.  Gray Reef sharks (GRS).  Barramundi.  Sailfin tang.
LIGHTHOUSE BOMMIE
Green sea turtle—never met one so friendly, small female.  Olive sea snakes.  2 octopus. Giant Trevalle (GT).  Red bass (vampire fish).  Whitelined rockcod.  Yellow back basslet.  Sailfin queen. 
GOOGLE GARDEN
V 40' D 60'
Got to do this dive with 3 Googlers.  Finally—the GBR as I remember it:  diverse and healthy coral cover.  3 cuddlefish—dominant male in the middle sending different signals to the female on one side vs. the subordinate male on the other.  Amazing display of flashing color.
PIXIE PINNACLE
V 40' D 90'
Heaps of nudis, flatworms, gorgonia, anthias.  Coral cod, trumpet fish, big eye sea breams (love these dopey guys!), dot and dash goatfish (looks like it sounds!)
November 15
LIZARD ISLAND
CORAL PRINCESS
V 30' D 40'
3 cuddlefish, spinecheek anemone fish, bulb tentacled anemone (packs a punch, don't touch!).  Ghost pipefish, moray.  Giant sweetlips (Dan's favorite, seen these only in the South Pacific).
CHALLENGER BAY
Loggerhead turtle (looks like it sounds!) Maori wrasse (same as Napolean) White tip shark (WTS), GRS, lots of dead coral… but still fishy. Cuddlefish. batfish.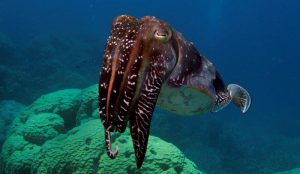 November 16
OSPREY REEF
THE GAP
V 40' D 115'
Skiff drop on wall with outgoing current.  Cave.  Schooling blue and yellow fusilier.  GRS.  Dog tooth tuna.  Blue striped snapper, Racoon butterfly fish, coral beauty.
MARLIN WALL
D 100'
Hammerhead, small, up in the shallows.  GRS pregnant. 
FALSE ENTRANCE
D 76'
Purple queen anthias, bicolor dotty back.  Yellow edge coronation trout (beautiful!!) Piano fangblenny (kept nipping my butt and legs, right through the wetsuit!).
ADMIRALTY
D 56'
Caves, caverns and swimthroughs.  Lots of dead substrata.  Sea cucumbers, spider conch, juvenile WTS.
November 17
SOFT CORAL WALL
V 50' D 101'
Looks like it's named!  Needed more current, but the soft corals and sea fans were still splendiferous.  Yellow branching over ledges.  Small spotted dart (like a pompano), jobfish, Pyramid butterfly fish hanging on the corner.
NORTH HORN
V40' D75'
Shark feeding.  Not a big fan, but didn't have the integrity to pass on the dive.  4 tuna heads pulled out of a cage on a buoyed line.  A tower of predation!  15 GRS scrambling for their piece.  Lovely wall of soft corals around the corner.  School of dogtooth (7).  Bannerfish.
NAUTILUS CAVES
V30' D70'
Lots of swimthroughs.  Lots of dead substrate.  Big eye.  Ribbon algae.  Maori wrasse.
CASTLES
V40' D84'
Nice wall of sea fans, terrific swim throughs, finger reefs.  Group of 8 Lined Sweetlips, WTS, eagle ray.
November 18
STEVE'S BOMMIE
Nice pinnacle, but narrow diameter for 20 divers felt crowded on the top.  But so much to see on the top no one wanted to leave!  Nudis, yellow lined grunts, fusilier, stonefish (!), big eye tornado under boat, lionfish
STEVE'S BOMMIE
Crew doing engine maintenance (while skiffing to dolphins?).  Octopus, dolphins whistling, unicornfish, harlequin shimp, squirrel fish.
JOY
Midnight snapper "bubbles".  Notodoris (big yellow blobby nudi).  WTS.
November 18
??
Blue spotted mask ray.  Carpetshark.  Big beautiful snapper.