Double Handing to the Tuamotus
The Tuamotus are simply supplied by passing cargo ships, and we won't be able to buy much there—good for the budget, bad for the waistline.  With no soil to grow produce, I'm going to have to get used to eating canned food.  We are sure there will be coconuts, so I paddle to shore and buy a coconut grater on our last morning in the Marquesas.  Surprise, there are farmers selling produce!  What luck!  No colorful vegetables, but cucumbers do the trick for sandwich crunch, and bokchoy acts like kale in a scramble.  Pumpkins keep me grounded and sweet potatoes feed my roots.  We are loaded with fruit:  pamplemousse, avocados, a bunch of banana, mango, passionfruit, oranges, turmeric and pimientos.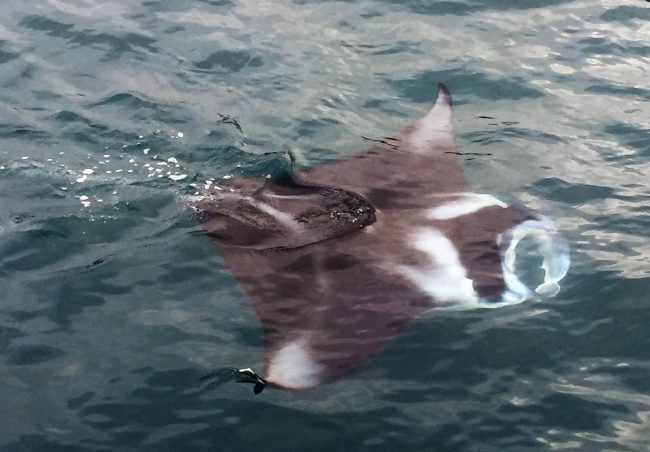 Manta twirl around Te Poerava as I process the produce, they are not giant but their cephalic appendages coil just the same.  Fruits and veggies with peels hang in nets off the stern, the salt water scaring off spiders and other heeby jeebies.  The delicates get an iodine soak in the sink.  We haven't seen cockroaches in the cabin since Mexico; any tiny arthropods crawling into sight is squashed with fervor.
While on the pot Dan hears squeaking.  Not from the plumbing, thank hardware heavens, but from the sea.  Large dolphins approach cautiously from both sides, large like pilot whales, more than twice my size.  Super squeaky!  Black bodies are harder to see than the gray spotted pantropical dolphins we're used to seeing.  Spray!  Their enormous blow holes produce whale-sized exhales.  Pectoral fins are pointy and long, snouts are round and bulbous.  A special encounter, a new species, the book says they are rare and they have strong family bonds.  Probably squeaking sisters.
Five days of Open Ocean rock between the Marquesas and the Tuamotus.  With just Dan and I splitting watches, I'm nervous about getting enough sleep.  A nice breeze carries us over calm seas– on my first dawn watch I'm able to mend the dish towels, make yogurt, download photos, and peel pamplemousse; five hours, poof!  On Day 2, I barely feel sea sick though the seas are starting to roll.  Maybe it's the scopolamine patch, or maybe I've grown sea legs.  It's wonderful to be able to function underway:  de-mold the galley, frame and hang the Sea Bass painting, grate a coconut.  I make pamplemousse salad with peanuts for dinner.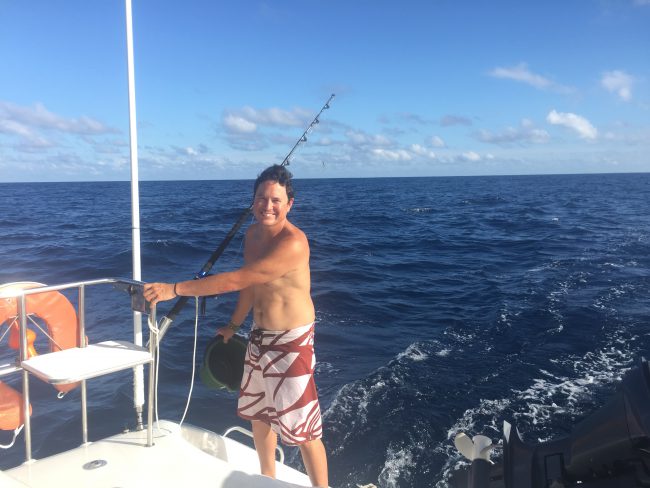 I don't sleep well, now we're rocking on swells, but we make good mileage.  Watch is harder when I'm tired, but I'm still able to read.  The wind makes it cool enough to sit in the salon in a pillow nest.  Day 3:  The only productive thing I do is cut my finger nails.  Day 4 I make banana bread on Watch.  Pleased as punch to present it to Dan when he wakes at 6am—he doesn't take much notice, but I think it's beautiful!  Dry, but that can be fixed with Nutella.
Waistbands on Dan's trunks and my bikini bottoms need tightening (my stitching is horrendous, but a better option than plumber's butt); not because we're losing weight.  The heat deteriorates elastic. Canned pork, frozen broccoli, canned mushrooms and jalapeno pizza.  Jicama salad.  Sausage on a baguette with marinated onions.  Strange fruit for breakfast (sugar apples have scales that peel back to reveal kernels wrapped in yummy pulp) with homemade kefir and granola.  We do the best with what we have, and we trust our diet will continue to deteriorate with our waistbands.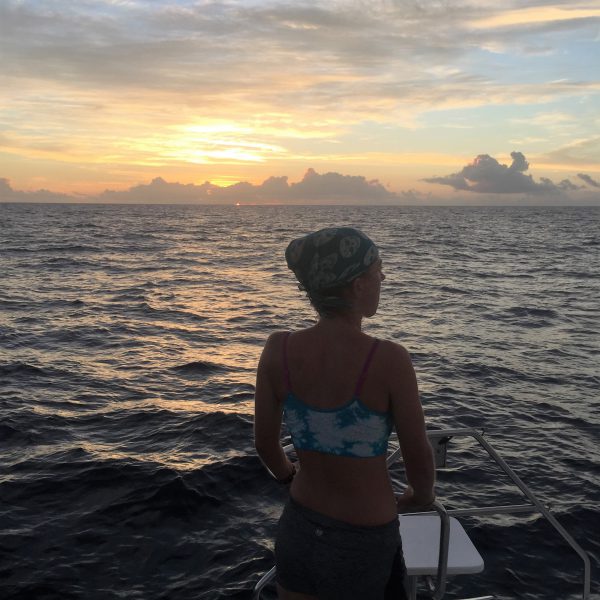 The sunset is inspiring.  Dan strums his ukulele and I practice yoga.  Too rough for warrior pose, but eagle squat works!  On my last night watch the shooting stars are more like dashing darts, so fast they leave a hazy streak that lengthens their short existence.  We aim to do the same with the time we've been given, burning brightly.  Exploding like an orgasm that could only be better if it lasted longer.  Lengthen your streak!  I feel the cool rush of excitement as I see "Makemo" zoom in near Te Poe's icon on our chart plotter.  Our entry to the narrow reef pass is timed for slack tide and morning light.  It's still a potato patch of eddies, two knots of out-going current.  We double handed 500 nautical miles.  Without killing each other.  Super stoked to see our friends onboard Magic anchored inside the lagoon.