Basic Scuba Diver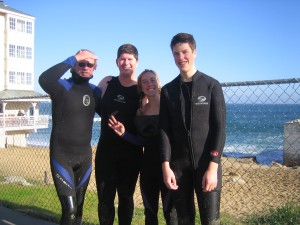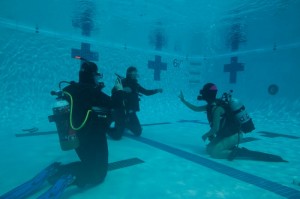 If you care about quality, our Basic Diver SCUBA certification is the best deal around!  We have certified tens of thousands of  divers since 1972.  We choose to be affiliated with NAUI because it allows us to go above the standards and adapt our classes to student skill level.  Launched in 1957, NAUI was the second certifying agency worldwide (after a Los Angeles life guard agency), and as a non-profit organization, continues to be the best available.  Here are some of the reasons why you'll find our classes will fit your needs:
Low student to instructor ratio
Flexible class schedules
Marine biology slant to the course
Experience
Accelerated courses available
Private instruction available
Optional small group boat dives
Diving family
Travel options: complete check out dives in the Channel Islands or some place exotic!
The Basic Certification is a life-long ticket to dive.  Pool sessions cover swimming, snorkeling, full gear practice, buoyancy control, and rescue skills.  The number of pool meetings is tailored to student ability.  Topics in the classroom include safety, equipment, pressure effects, dive tables, and the marine environment.
Cost of Instruction
The cost of a group class is $250 per student with six per class, or $300 with four per class.  The private certification costs $675.  Should you feel comfortable inviting additional students to join any portion of your class, the price may be reduced.  Included in the class are the pool and lecture series, course materials, five ocean dives, and your certification card.
Value
Kristy has a degree in Aquatic Biology and 20 years of diving experience.  She has been an instructor since 2003.  With a Masters Degree in Marine Science, Bill Finstad was among the first SCUBA instructors in the World.  Since 1973, Bill has certified over 10,000 Bay Area divers.    Kristy's husband Dan holds a USCG Captain's License, allowing us to take students on private boat dives.
A typical class schedule may look like this:
BASIC CERTIFICATION
Feb 15
Friday
Safety
Pressure Effects
Snorkeling Skills
Feb 16
Saturday
Diving Physiology and the Marine Environment
Gear Assembly
Scuba Skills
Feb 17
Sunday
Dive Tables and Exam Review
Scuba Skills Review
Feb 18
Monday
 Beach Dives
Feb 23
Saturday
Boat Dives, $75
We also provide Advanced SCUBA instruction FREE with enrollment in any of our Channel Island trips.  Why??  Our goal is to make you into DIVERS, which means doing more than the basic quickie ocean check-outs included in every basic class.  We want you to experience the Channel Islands — by the end of the weekend you'll really have the hang of it, and you'll be hooked.  You'll be comfortable breathing under water, you'll be able to enjoy the kelp forest, you'll have your buoyancy and equipment dialed-in, and you'll be able to navigate to and from the dive boat.
Payment and Cancellation Policy: A $50 deposit reserves your space. The balance is due at the first class.  No refunds within two weeks of course start date.
Please make checks payable to:
Worldwide Diving Adventures
1150 Whitewater Cove
Santa Cruz, CA 95062 Santa Cruz, CA 95062