Our Journey
HOW WE GOT HERE
Memoirs from the back of a cocktail napkin
Dreaming Big, Naturally.
We are Dan and Kristy. When it comes to the ocean, we are naturals, our blood runs salty. Our dads made sure of that.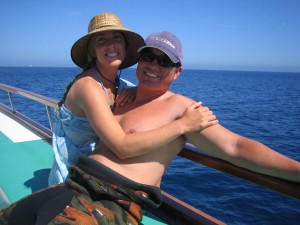 The Chua family operated a fishing fleet in Singapore; the Finstad family operated a SCUBA instruction and travel business in Santa Cruz— we grew up respecting the ocean— it giveth, and it taketh-away. Our education in hydrology and marine science, licensed USCG Captain and Scuba Instructor, we make a darn good team at sea (nevermind my sensitivity to sun and wind—AND sea sickness).
For us, dreaming big comes naturally. Our moms made sure of that: full of adaptability and independence. I've always admired the folks who are satisfied, with steady jobs and kids. From the beginning, Dan insisted we never live behind a white picket fence. It's in our nature to go outside the box. I've always felt like an outsider, existing on the periphery, and I am really grateful for that. Starting from a place of normalcy, you don't get the same gumption that you do from the fringes. Dreaming big is like driving at night—you can't see further than your headlights, but you can make the whole trip that way.
Cabbage. Green. Cold hard cashola. Dinero.
There was this free City lunch-time training called "Saving For Your Future" I attended in 2010. The instructor picked me—"what are you saving for?"—I did not volunteer. I hesitated to share anything personal with the City (see Log "How to Quit Your Job"…). "A boat." I said, thinking that sounded rational enough. The instructor markered "BOAT" on the white board, saying "Perfect, a great example to work with," adding "$" she asked, "and how much do you need to save?" Slinking into my seat I gulped and said "one-hundred thousand dollars," knowing that didn't even include living expenses. An audible gasp waved around the classroom. She nervously giggled and markered "Time", asking "How long do you have?"
We had a 10 year plan that started on the back of a cocktail napkin in 2006. Just dreaming. Our first vision came innocently asked by boyfriend to girlfriend in 1998: "Do you think you'll ever go back to Tahiti?" To which she replied "Not unless I'm on my own sailboat," remembering how expensive the bungalows were. Had I known then the dangers of dreaming big, things may have turned out differently.
The years clipped along, and the piggy bank got heavier. The back of the napkin calculations scratched out expenses, liquid assets, and a check-list—like a road map with "Sail Away" as the destination. Each year on our anniversary, the rare occasion when we dined out, we scribbled on another napkin. More details were added, like cost of living and pension plans, and we began to check things off the list.
Get Used To It.
We bought a small sailboat in Santa Cruz, a Catalina 27, shared with our friends Mike and Hollie.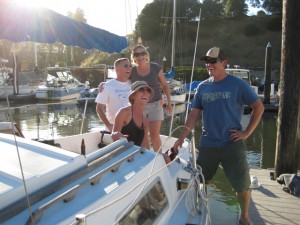 We practiced tinkering with engines and feeling the wind on our cheeks. We enrolled in Coast Guard safety and seamanship classes. I tied my first boline. We attended boat shows with fervor and couldn't wait to get our hands on the next month's issue of Latitude 38. Everyone has such genuine smiles in that publication, I swear, not one unhappy cruiser's face. It was good innocent fun. I didn't really think we were going to buy a liveaboard and quit our jobs. Dreaming was fun and exciting, a diversion allowing me to escape from my shitty boss and the worsening traffic in The Cruz.
Dan became an expert on catamarans behind my back. Well, really I had turned my back on all the gory details. Meanwhile he ran full speed ahead. We kept practicing on our little Catalina; I was terrible. I avoided the tiller like the plague, I wasn't a natural like Dan, who had no hesitation to "head down and fall off." The wind scared me, especially when we heeled over. I just wanted to see whales and hang out with Hollie and Mike eating nibblies and feeling like a yachty pulling up to The Nest under sail.
I enrolled in navigation classes on my own, since Dan studied that for his Captain's license. I spent every Tuesday night for 8 months paper chart plotting; it was then I noticed this wasn't just fun anymore. This was seriously real. When I introduced myself at the first class, I told my story, where I was heading, and it was real. Holy shit.
To Dan, the worst thing that could happen was "the boat would become a money pit." Me, I was concerned he'd leave me high and dry. Little Miss Seasick. I went to seminars on "How to keep your relationship off the rocks" while Dan chose "Solar Panels and Pactor Modems." He bought more surfboards while I invested in laser hair removal.
What was the best thing that could happen? Reinvent ourselves, evolve our marriage, connect to nature, be fit and focused, meet new friends, develop confidence.
Bite the Bullet.
The first cat we looked at was owned by an electrician, neatly wired and well-cared for, we liked it. Afterwards we stood in the marina parking lot and stared at her, imagining a new life. We slung a low-ball offer at it. The ball kept rolling. In 2013, we rallied with the Baja-haha fleet, 12 days sailing down the peninsula aboard a 44' cat with a South African captain. Not seasick, not bored, not claustrophobic, I passed the test. We continued pursuing catamarans.
Our broker said we should check out this Maxim 380, so we flew down to San Diego and drank champagne.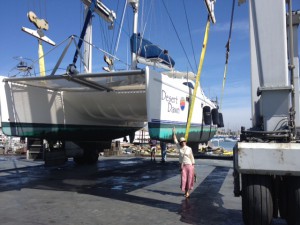 The second trip was to make an offer, pending a complete survey, and instead of celebrating with bubbly I tamed down with Whiskey. At 9 a.m. Shit was real now. One and a half years later, we bought Te Poerava, and she would slip in Ensenada until we quit our jobs. We had a year to tie up loose ends, pair down belongings, and say goodbye to our identities in Santa Cruz.
We're heading…
I guess we are "heading down," after all. But we are not falling off! The plan is to not have a plan. Breaking free from obedience to schedules, sailors make write their plans in the sand at low tide. Everything depends on the weather. Our new boss is King Neptune: when it blows we hunker down; when there's surf we paddle in; when there's rain we wash up. In terms of time-lines, the best we can do is point in the right direction.
As we struggled to get ready to sail off, my dear mother-in-law Pauline assured me: "you'll be there soon, everything will feel right when you get there." I wondered, where is there? Is there here? The direction we're pointing (towards "there"):
Track our progress from our start in the Channel Islands (July 2015), to Baja and beyond by clicking here.
Nov-Dec 2015: Pacific-side of Baja (San Quintin, Cedros and Benitos Islands, Mag Bay)
January-April 2016: Sea of Cortez (La Paz, Loreto, Revillagigedos)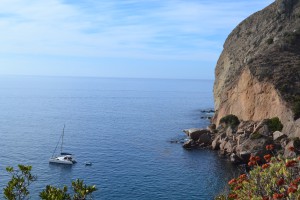 Summer 2016: bash back up to the Channel Islands to surf and work.
Fall-Winter 2016: The Baja (Guadalupe Island, La Paz, Mazatlan).
Spring 2017: Puddle Jump to the South Pacific (Marquesas, Tuamotus)
Summer 2017:  Society Islands (Tahiti, Bora Bora, Maupiti, Maupelia)
Fall – Winter 2017:  Cook Islands, Tonga, Fiji
Spring – Summer 2018: New Zealand, Fiji (Astrolabe Reef, Lau Archipelago)
Fall 2018: Vanuatu, New Caledonia, Chesterfield Reef, Australia
(Yep, that's the best "non-plan" this Type A gal can do!  We don't have a plan, and we're sticking to it!)