Te Poerava
This is our catamaran, Te Poerava; we love her.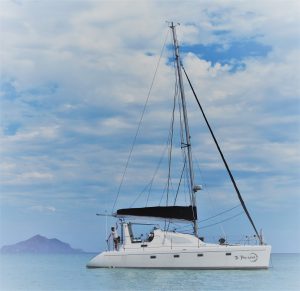 WHY WE LOVE HER:
Because she has two hulls, Te Poe sails flat, and she's not as rolly on anchor like a monohull would be. She has a stable platform for diving, and double the space for toys.   And spare parts. And tools. And safety gear. Plus we like having redundancy in the systems, 2 engines, 2 fuel and 2 water tanks. So when our starboard engine failed on our first long cruise, we relied on the port engine. It took about 100 miles to solve the problem, when Dan pulled a sarcastic fringe-head (small fish) out of the sea-strainer. He's such a capable man… I love that guy.
She is a good combination of performance and comfort. Her wide cockpit is great for lounging outdoors, and the trampoline in the front is the perfect hammock. She can sail downwind in light air with a spinnaker (in reggae colors, we're chillin the most). She proved her sea-worthiness by sailing across the Atlantic to California on her own bottom. South African cats are known for their big bottoms, and indeed Te Poe has a characteristically short bridge-deck clearance (she drags ass), which can result in some slamming over big seas, but what the hell; Baby got back.
STATS:
Our Maxim 380 is a 39.5' catamaran with a 21' beam and 3.6' draft. Built as lucky #49 out of 52, by Maxim Yachts of South Africa in 2005. Diesel Engines, 2 Yanmar 29HPs, combined with 120 gallon tanks and consuming 5 miles per gallon, we can motor 600 miles between fuel stops.
She has three cabins—two in the Crew's hull and the Captain's Quarters on the other side. Both hulls have heads (toilet/sink/shower), and since she is an "owner's version" (as opposed to a "charter version" which squeezes in a fourth cabin), we also have a closet. Pretty sweet, a walk-in closet on a boat, right? Just pull back the shower curtain and voila—find our wetsuits hanging by our foul weather gear. No suits or dresses.
A 10' aluminum bottom AB Dinghy named Betty Jean rests on her stern, deployed by halyard, enables us to run to shore or access surfing and diving sites while the Mothership lies in calm anchorage (Holy cow, did I say "mothership"?).
Our Spectra turns sea water into drinking water at a rate of 6 gallons per minute. I thought I was a water conservationist before! We use the deck-wash pump (pulls seawater into the faucet) to rinse the dishes. We have 120 gallons of storage, and we haven't filled them by hose since we left the U.S. We like to brush our teeth without thinking of giardia.
Power for our fridge and freezer comes from the sun, with 440 watts of solar, panels mounted to the hard bimini top. We also have a generator that we've never been able to start.
Other fun stuff: SCUBA gear and an air compressor, a BOSE sound system and beer cooler (courtesy of the previous owner), yoga mats, surf boards, guitars, a ridiculous amount of fishing gear. Plus all the safety stops: satellite phone, EPIRB, Delorme, SSB radio, life-raft, PFDs. We're filled to the brim, even with two hulls!
WHAT'S IN A NAME?
There is a superstition that changing the name of a boat is bad luck, unless certain procedures are followed. All labels of the old name must be removed, and a bottle of champagne broken over the bow, AND you must promise to love her more than the last owner. The last part was no problem. But it took frickin hours to scrape "Desert Dawn" off her hulls with our Von's cards, even with a blow-dryer to heat up the most stubborn sections. I scissored out "Desert Dawn" from the buoy covers, Dan got a bottle of bubbly from Cali-Max, and we were good.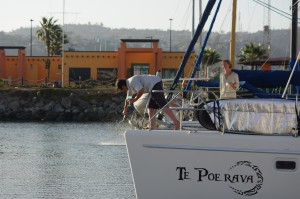 Yeah we know, Te Poe is hard to say and Te Poerava seems next to impossible. Her pet name is The Black Pearl. Which is really easy to remember, thanks to Johnny Depp. Why not name her La Perla Negra? Although we are huge fans of Mexico, and hence plan to spend our first two years there, Mexico isn't known for culturing Black Pearls. But Tahiti is! "Te Poe" means "The Pearl" in Tahitian, and "rava" means "black." When I worked in Moorea, I brought home a load of the beauties and one is set in my engagement ring. They're kinda special for us, representing the wonder the ocean is capable of, the beauty that can come from within, the way of turning an annoying grain of sand (come on, we've all had one) into a gorgeous gem.
So it'll be a cinch once we get to French Polynesia, right? Let's hope so. When in doubt, spell it out. It's really not that difficult folks, it sounds just like it's spelled (Say Oh Yay = Te Poe). When still in doubt, just remember Johnny Depp. Long live The Black Pearl! Oh, and long live The Betty Jean, our aluminum bottom dinghy named after my favorite person in the world, Grandma Betty.