Baja: Diving and Sailing the Sea Of Cortez

Date(s)
10/09/2019 - 10/13/2019
Cruise the Sea of Cortez with Captain Dan on a 45′ catamaran:  stunning anchorages; deserted beaches, snorkeling, diving and fishing.
Charter Dates:  October 9-13 (2 cabins available) and October 14-18 (full)
$3368
Cost includes:
Private Cabin with en-suite head
Captain and Galley Girl
Full Board
Alcohol
Fees:  Marine Park, Cleaning, Starter Pack, Taxes
Build your own adventure:
  Dive near Espiritu Santo
Get picked up to dive right from your catamaran, this cuts the 2 hour motor into a short cruise.
Dive site details below.
Approximate cost:  $180.
Stay in La Paz
Marina Costa Baja is a beautiful resort with the infinity pool to match and several boutique restaurants.
Free shuttle to town.  Enjoy the rich culture of this peaceful little city, take a walk along the seashore and find your favorite margarita bar, visit the Natural History Museum or shop in the outdoor markets.
Approximate cost: $200 per night.
Explore Cabo Pulmo
The diving is relatively shallow and without current, but marine life still comes to this protected reserve.  Snorkeling is excellent.  Schooling jacks, big eels, and angelfish on the reef.  Bull sharks and rays on the wreck.
The beach is long and raw, the food is good and the bungalows have an authentic fiesta vibe.
Approximate cost per Casita for 3 nights including meals and diving: $1350.
Please note:  costs are approximated based on group discounts and are subject to change.  Contact Kristy ([email protected]) to dial in the costs for your custom vacation.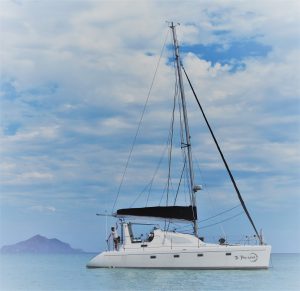 We love La Paz, on the Sea of Cortez, famous for its rich culture and marine life. Enjoy close encounters with sea lions, turtles, schooling jacks, tuna, golden groupers, zebra eels, nudibranchs, and beautiful black coral sea fans. Fall is the season when hammerheads circle the seamounts looking for love, and whalesharks feed along their migration route.  We've swam with orcas, spotted pilot whales, manta rays, dolphins, marlin and even elephant seals– you just don't know what you're gonna get under there.
What you do know:  the flight is easy, the boat rides will be scenic, the water will be warm and clear.
About the dive sites near Espiritu Santo, where your yacht will anchor:
LOS ISLOTES ISLAND: known as the Sea Lion Colony, located north of Holy Spirit Island, about an hour and a half boat ride from La Paz. Besides the 200-300 sea lions, you will also see a large variety of fish.
EL BAJO: with seamounts peaking in 60 to 150 ft of water, El Bajo is an excellent spot for advanced divers. In strong currents, divers can hold onto rocks while watching for the large animals:  schools of hammerheads, manta rays, marlins and more. For those who like to explore underwater, this may be the best dive site in the Sea of Cortez.
EL BAJITO: next to the sea lion colony lies a beautiful dive site where the cracks on the sea floor are covered with soft coral. Small rays, eels, and big fish can be seen here.
WHALE ISLAND: this small, whale-shaped island has caves, crevices, rocky reefs, and a coral forest at 10-60 ft. This area is protected from the wind and the current is mild, you will see fish exclusively found in the Sea of Cortez, such as the Cortez Angelfish.
SALVATIERRA WRECK: a 250 foot ferry boat that sank in 1976, this wreck lies 45-60 feet deep in the San Lorenzo Channel at the southern end of Holy Spirit Island. Common residents of this area include snappers and pelagic puffers.
Reservations:
Deposit $500 to reserve your space using Venmo or by check.  Final payment is due 4 months prior to the trip. No refunds after this date.  Cancellations are subject to a $100 processing fee.
Make a Reservation Today!
Checks payable to:  Worldwide Diving Adventures
Mailed to: PO Box 1019, Twin Bridges, CA 95735
Insurance:  Divers-in-the-know use Divers Alert Network Dive Accident Insurance.  We also strongly encourage purchasing DAN Travel Insurance.  They offer competitive rates, your money goes to important research and education; and if you use the links, Worldwide Diving Adventures gets a referral (thanks!). DAN helps recoup medical expenses and lost dives from minor maladies to helicopter rides.  Insurance gives you the ability to listen to symptoms which otherwise you might ignore.Insurance gives you the ability to listen to symptoms which otherwise you might ignore.
Email Kristy for more information: [email protected]  
California Seller of Travel #:  2020378-40