Dive Down Under

Date(s)
11/12/2018 - 11/19/2018
AUSTRALIA.  Astoundingly clear water. Amazing diving.  Absolute vacation.
Beyond the continental shelf that harbors the Great Barrier Reef lie the isolated and crystal clear waters of Australia's Coral Sea. The region covers three times the size of the Great Barrier Reef – and is scattered with spectacular corals, in an undersea world of ancient mountains, rising thousands of meters from the ocean floor.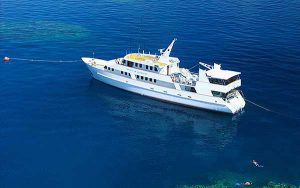 In this oceanic wilderness, where man's influence is relatively insignificant, pelagic fish populations abound – grey whales and reef sharks, hammerheads, tuna, barracuda, big eye trevally, mackerel and manta rays. Rare sea creatures such as the Nautilus and Lacey Scorpionfish inhabit these waters, alongside an incredibly diverse range of corals, including massive soft corals and gorgonian fans far from land, with the sea floor far below, the Coral Sea is also known for visibility ranging between 90 and 300 feet.
Sleek and spacious, the 'Spirit of Freedom' offers the best in live-aboard dive cruising to the Coral Sea and Great Barrier Reef. From Cairns we'll travel along the rarely visited Ribbon Reefs, to the Cod Hole. Along the 'Ribbons,' encounter clouds of colourful tropical fish, vibrant healthy corals, giant clams, anemones, huge schools of cruising pelagic fish, and a family of giant potato cod. Top it off with 2 days at Osprey Reef in the Coral Sea. An old volcanic atoll lying way off the coast, Osprey Reef is renown for its spectacular walls to 1000m, its massive soft corals, shark action, and exceptional visibility. 'North Horn' at the tip of Osprey is a site where grey reef sharks, silvertips, and the occasional oceanic white tip congregate.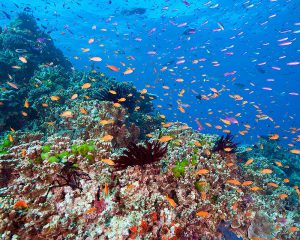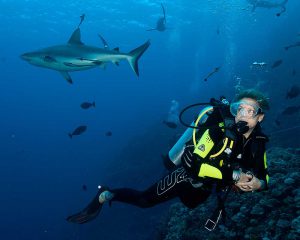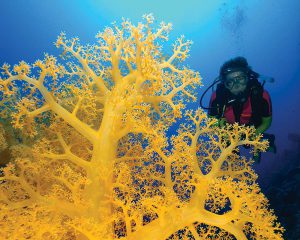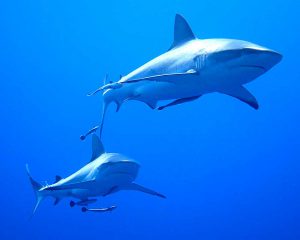 Includes: Opportunity for up to 26 dives, En-suite cabin with daily service, Chef prepared gourmet meals, Australian wines
Dive Level Recommendation: Advanced diving.  The deeper reefs and currents make the Coral Sea suitable for experienced snorkelers only. You may not be able to snorkel at every site.
7 nights aboard the Spirit of Freedom includes your cabin,
ranging from $2925 – $4290
Ocean View Deluxe –FULL
Ocean View Standard –FULL
Stateroom Double — FULL
Stateroom Quad — FULL
 Please let us know if you would like to be on a waiting list.
Ask Kristy for more details:  kristy@finstad.com
RESERVATIONS: A minimum $1400 deposit is required to reserve your space on this trip.  Second payment of $2000 due 5 months prior to the trip (June 12, 2018).  Final payment due 2 months prior to the trip.  Airfare booked by Worldwide Diving Adventures paid at time of booking.
Cancellations are subject to a $300 processing fee.  Price is based on double occupancy.  Reservations and payments will be forfeited if full payment is not received according to the schedule.  No refunds can be made after June 12, 2018.
Credit cards may be used with a 3% transaction fee, or send your deposit by check.
Please make checks payable to:  Worldwide Diving Adventures (WDA)
Mail to this address:
Worldwide Dive, care of Sarah Finstad
500 East Baker Street; Winters, CA  95694
Memo:  please make note of your destination ("AUS") and the best way to contact you.
INSURANCE:   Most divers-in-the-know use DAN Dive Accident Insurance, which requires ($25) Membership.  This insurance covers emergency medical evacuation and treatment in case of a dive accident.  As a member, you can choose your level of coverage– Standard Coverage is $30.  Please use our referral number: 1403373. We also strongly encourage purchasing Divers Alert Network Travel Insurance.  They offer competitive rates, and your money goes to a fantastic program.    DAN has helped many of our guests (including ourselves) recoup money for medical expenses and lost dives (from ear infections, etc); unfortunately, we have also seen a few divers need helicopter rides to a decompression chamber.  Insurance gives you the ability to listen to symptoms which otherwise you might ignore.
Contact Kristy (kristy@finstad.com) for more information.