Late July Limited Load, Northern Channel Islands
Date(s)
07/22/2018 - 07/23/2018

$440
Save 3.5% by paying with check or Venmo!
The Liveaboard
Truth Aquatics live-aboards are designed by divers for divers.  Their commitment to service shows through the smiles of crewmembers that love their jobs and undergo special safety training.  The Galley folks cook up some gourmet cuisine!  We will be sailing on the Truth for this trip. By limiting the number of divers on board, we can all get a little extra elbow room on the dive deck and in the galley!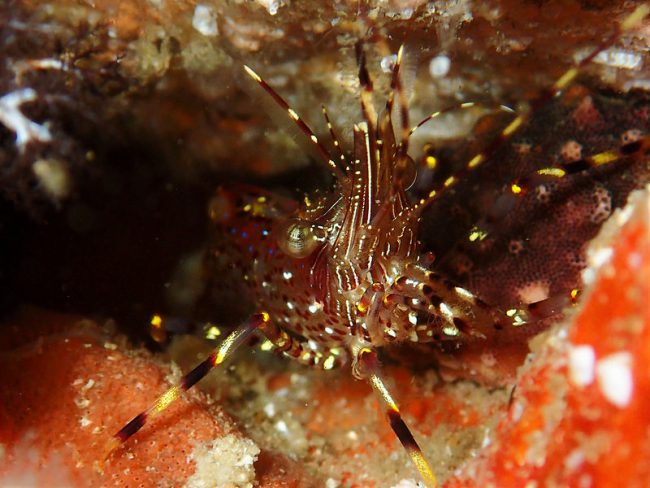 The Destination
On the late July trip, divers have the unique opportunity to explore the pinnacles of San Miguel Island.  This rarely visited island is loaded with color: anemones, crabs, nudibranchs covering every inch of wall with a rainbow.  Great for macro-photography.  Nutrient rich waters bathing this island bring BIG fish: halibut, bugs, rockfish, wolfeels, lingcod.  The precipitous geology at Boomerang, Skyscrapers, Richardson's and Wilson's Rock will blow you away.  The island also hosts pristine shallow reefs hosting an incredibly diverse collection of sea life.  Night dives are delightful; octopi roam the reefs and bioluminescent zooplankton flash colors to silhouette the diver. Other destinations may include Santa Rosa, Santa Cruz, and Anacapa Islands.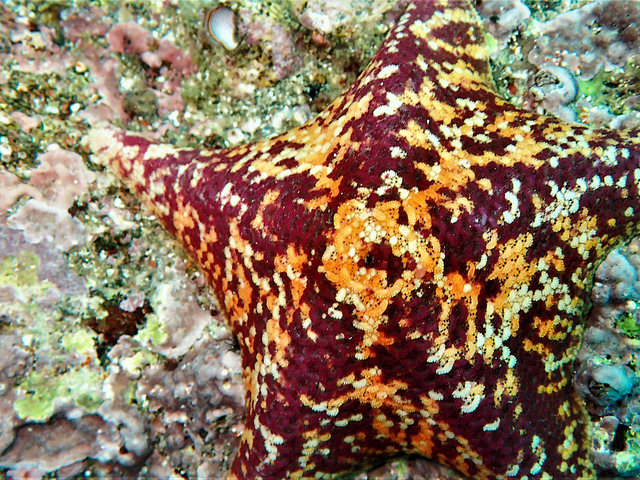 We will meet at the Santa Barbara Harbor on Saturday night, boarding anytime after 8pm.  Fall asleep with the Truth departing at 4am, Sunday morning.  The boat will return on Monday about 5pm.    The Sea Landing Dive Center is located within steps from the Truth Aquatic vessels for convenient equipment rental (tanks and weights are not provided on-board).   See more details "Preparing for your Channel Islands Trip" on our Currents page.  Marine Biologist Sarah brings her microscope to show divers siliceous spicules and pumping pedicellariae– the colors on marine invertebrates are amazing up close!
Package includes:
Breakfasts made to order (ex. breakfast burrito)
Scrumptious lunches and dinners (ex. homemade pot pies and BBQ tri tip… let me know if you have dietary needs or are vegetarian…the chefs make great marinated tofu!)
Plenty of snacks and desserts (ex. spinach dip, and berry pie)
Non-alcoholic beverages (ex. sodas, juices, milk)
Unlimited air fills, unlimited diving
Fuel Surcharge
On-board Naturalist
Optional Add-ons:
Double bunk guarantee ($25/night, limited availability)
Spirits (if you've got lots, bring a cooler!)
Contact:  Sarah Finstad 408-802-4812, sarah@finstad.com
Payment and Cancellation Policy:  A $300 deposit reserves your space.  Cancellations are subject to a $100 processing fee. Final payment is due one month prior to departure, late payments incur a 3% fee.  No refunds may be processed after this date.   Package price is subject to change.
We accept all major credit cards, as well as PayPal and Venmo.
Please make checks payable to:  Worldwide Diving Adventures
Mail to:
500 East Baker Street
Winters, CA 95694
INSURANCE:  We strongly encourage purchasing Divers Alert Network Travel Insurance.  They off competitive rates, and your money goes to a fantastic program.  Most divers-in-the-know also have DAN Dive Accident Insurance.  Which requires an Membership.  Family Membership is $55 annually, or $25 for Individual Membership.  We have the Preferred level, but you could go Standard, which costs $30 per person.  If you have the opportunity to use my referral number, we get points: 1403373.  DAN has helped many of our guests (including ourselves) recoup money for medical expenses and lost dives (from ear infections, etc); unfortunately, we have also seen a few divers need helicopter rides to a decompression chamber.  The thought is that insurance gives you the ability to listen to symptoms which otherwise you might ignore.

California Seller of Travel #:  2020378-40